I'm organist and concertist :
let me talk you who I am !!!
The principal steps of musical learning
:
Born in Saint-Germain en Laye, I began studying music in a childrens orchestra by the Carl Orff method, before taking music lessons at the age of twelve
.
In 1979, I was one of Xavier Darasse's students at the Conservatoire National of Toulouse.
In 1982, I reieved a gold medal in the organ section, then in 1983, unanimously achieved first prize at the Conservatoire National of Toulouse.
Round the years 195 and 1986, I left for Austria were I managed to polish my knowledge under the teaching of Michael Radulescu at the Musikhochchule in Vienna, and this mostly in the classical and contempory repertoire.
In june 1986, I came in second in the organ section at the « concours international de musique contemporaine » in Toulouse, with compositions written by Boucourechliev, Amy,Messiaen,Hambraeus and Darasse .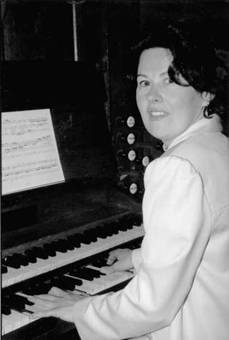 « Claire Chassin is a nature, a musician, a force ; her personal interpretations impress : whether it's classical french music or J.S. Bach, or even medern music. She's part of a new generation of organits who are as comfortable in past as in present repertoires and who renew the playing, bringing agility and enthousiasm for the joy of the public »
Xavier Darasse. December 1986
« Claire Chassin is a young organist predestined for our century's music, a strong personality, full of fantasy and taste. Her interpretations mostly of the new organ music, are always captivating by their originality, by their expressiveness and by their intelligence. »
Michael Radulescu. December 1986
Some of my last concerts :
Invited to participate in many festivals in and out of France, I also played and recorded for « France Musique » and for the ORF (Austria).
During these last few years, I gave concerts in France and in other countries, like the Madeleine church in Paris, the Bordeaux cathedral, the Bourges festival, the Auxerre festival, at Saint-Bertrand de Comminges, at Notre-Dame la grande in Poitiers, at Saint-Vincent in havre, at Saint-Emilion, at the Llivia festival (Spain), the Puicerda festival (Spain), at Boulogne sur mer, Saint-Omer, Annecy,Chamonix, Rennes, Orléans, Macon, Saint-Sever, Chaumont, Caen…..

« Claire Chassin : the triumph of a talented musician. (…) A program going from Messiaen to Bach through Bach's second son, and Franck wasn't a choice for simplicity ? I twas putting her own sensibility in a task that seemed to need only intelligence… …two of Bach's works, very representative of baroque music, showed not only the comfort, the case, but also the deepness of the interpretation…Puget the romantic too, gave an applause. The room gave the organist a standing ovation. »
« (…)She gave us Bach like never before, captivating the whole church… C. Chassin almost rendered visible the never ending developement of Bach's work, his certitudes ; he was, what he was with superiority, the church musician touched by an inhuman glory.
Claire Chassin comes to see us on the occasion : we would love this to be more often as we have a lot to hear and learn from her. »
La dépêche du midi. June 2000
« (…) Claire Chassin is part of this new generation interpreters who know quite well how to make the instrument sing. Her sense of melody, of nuances, still make a marvel of Franck's « prelude fugue et variation ».
Le journal du centre. Juillet 2003
« The public came in plenty to listen to an instrument and an exceptional organist. Giving strong but sensible interpretations, C. Chassin gave life and emotion to all what she played….
She very well exploited the many possibilities of this magnificent organ…
« …her playing, made of nuances, of a mysterious search, finds in the organ of the Madeleine…A true hour of grace. »
Dépêche du midi. Juin 2006
LA DANSE
J. Alain : Trois danses
J.S. Bach : Passacaille en Ut mineur
M. Radulescu : Ricercari
BACH sur le nom de BACH
Choral Schübler en Si b majeur :
« Ach bleib bei uns, herr Jesu Christ »
B
Prélude et fugue en la mineur
A
Partita « O Gott, du frommer Gott » en Do mineur
C
Prélude et fugue en Si mineur
H
F. LISZT : Dante symphonie
M. REGER : Neun Stücke für orgel ( Extraits )
O. MESSIAEN : Apparition de l'église éternelle
M. RADULESCU : Chorals sur la Passion ( Extraits )
F LISZT : Weinen, Klagen, Sorgen, Zagen

Site mis en ligne par Emmanuel Dufour